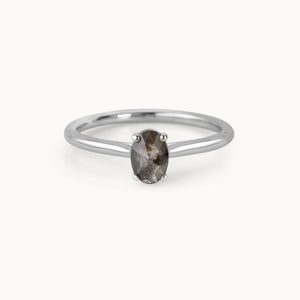 Celestial Coordinates Ring
Sale price Price $2,115.00 Regular price
Get lost in space gazing into this ring. While its rose cut diamond is dainty, it is mighty enough to stand strong on its own in our classic Turnsmith Solitaire Setting.
Size & Colour
Total Carat Weight: 0.45 ct.
Centre Stones: 0.45 ct.
Shape & Cut
Rose Cut Diamond
Oval Cut
Our Process
Step 1
Consultation Call & Digital Sketch
Step 2
Casting, Setting, Polishing
Step 3
Boxed & Shipped in 4 - 6 Weeks
OUR PROMISE
Once your design has been perfected, the magic begins. Each unique ring is made-to-order and will ship in approximately 4-6 weeks. Your custom ring comes to life through our meticulous production process. Our team of master craftspeople use only the highest quality techniques - we never cut corners. This is why our jewelry is far superior in quality to most online jewelry. We also provide a complimentary third-party appraisal with every ring over $1,500 CAD.
We're professionals, not hobbyists. We believe that alternative fine jewelry should look just as perfect as the traditional stuff. That's why our rings look ultra-premium, not crafty. Our jewelry is proudly handcrafted in Toronto, Canada.