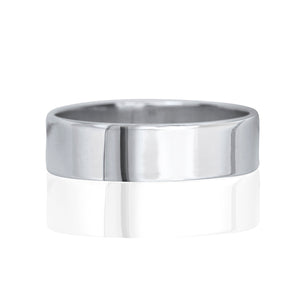 Chris Custom Wedding Band
Sale price Price $658.00 Regular price
Custom made 6mm flat wedding band in 14k white gold, shine finish, size TBD.
Our Process
Step 1
Consultation Call & Digital Sketch
Step 2
Casting, Setting, Polishing
Step 3
Boxed & Shipped in 4 - 6 Weeks
OUR PROMISE
Once your design has been perfected, the magic begins. Each unique ring is made-to-order and will ship in approximately 4-6 weeks. Your custom ring comes to life through our meticulous production process. Our team of master craftspeople use only the highest quality techniques - we never cut corners. This is why our jewelry is far superior in quality to most online jewelry. We also provide a complimentary third-party appraisal with every ring over $1,500 CAD.
We're professionals, not hobbyists. We believe that alternative fine jewelry should look just as perfect as the traditional stuff. That's why our rings look ultra-premium, not crafty. Our jewelry is proudly handcrafted in Toronto, Canada.